While in Minneapolis last week, Evan got to see real snow for the first time. It was very cool to watch. He ran outside with his cousin Mike and stuck out his tongue to catch snowflakes. The next morning, there was enough nice, wet snow to make a proper snowman. It made me feel like a good dad.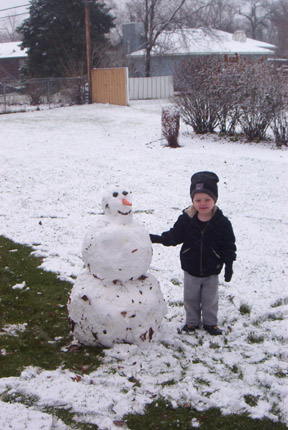 After making two snowmen we made some snowballs, but not wanting to encourage him at this age to through things at people, we had to be satisfied with throwing them at a tree. Maybe next time we can have a snowball fight. Then we'll see some cryin'.
It was a nice trip, but it's nice to be home too. I think I finally finished writing my massive paper. I don't like it at all, but I think I might scrape by with a low B, which will allow me to retain my A in the class. It's all about strategy...